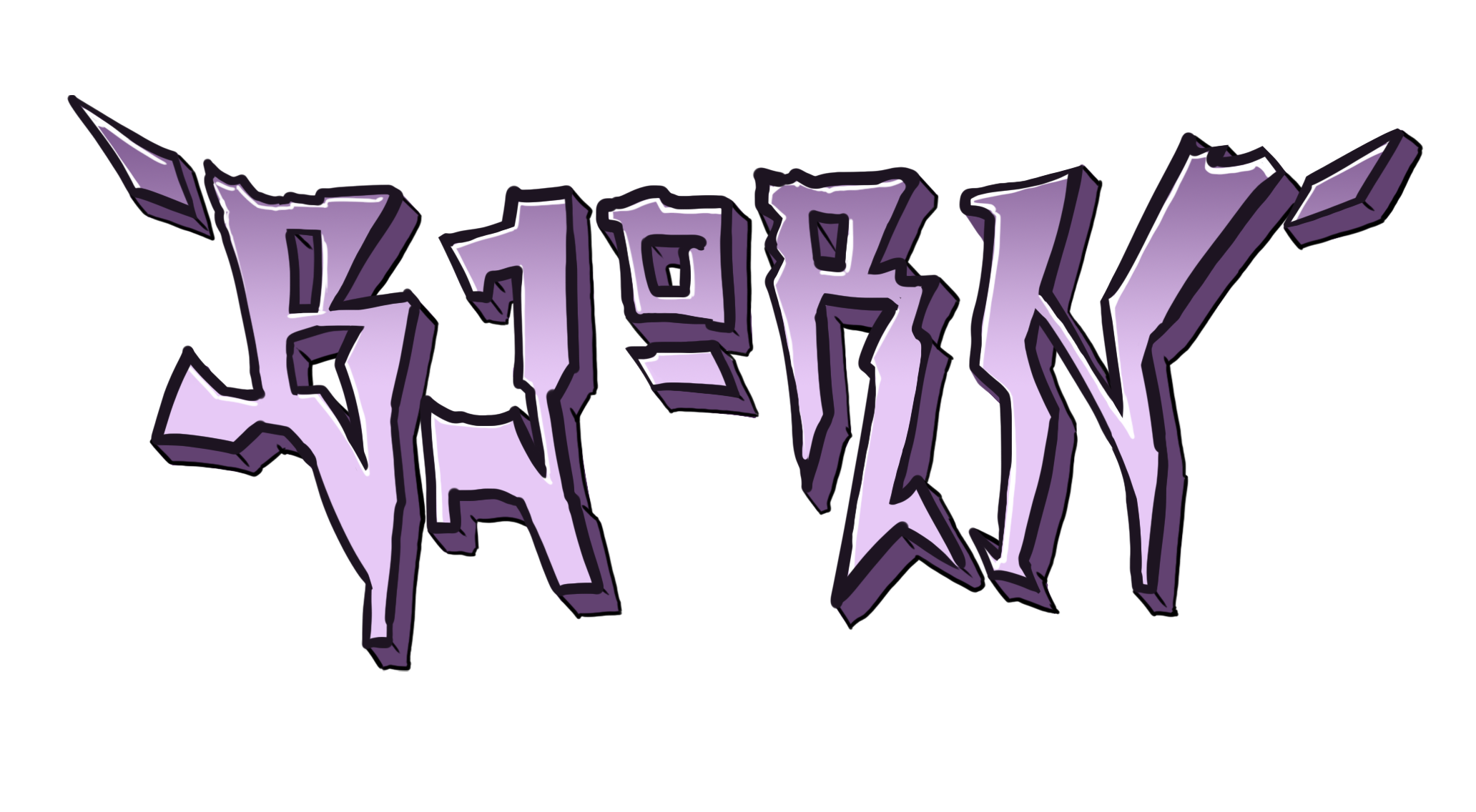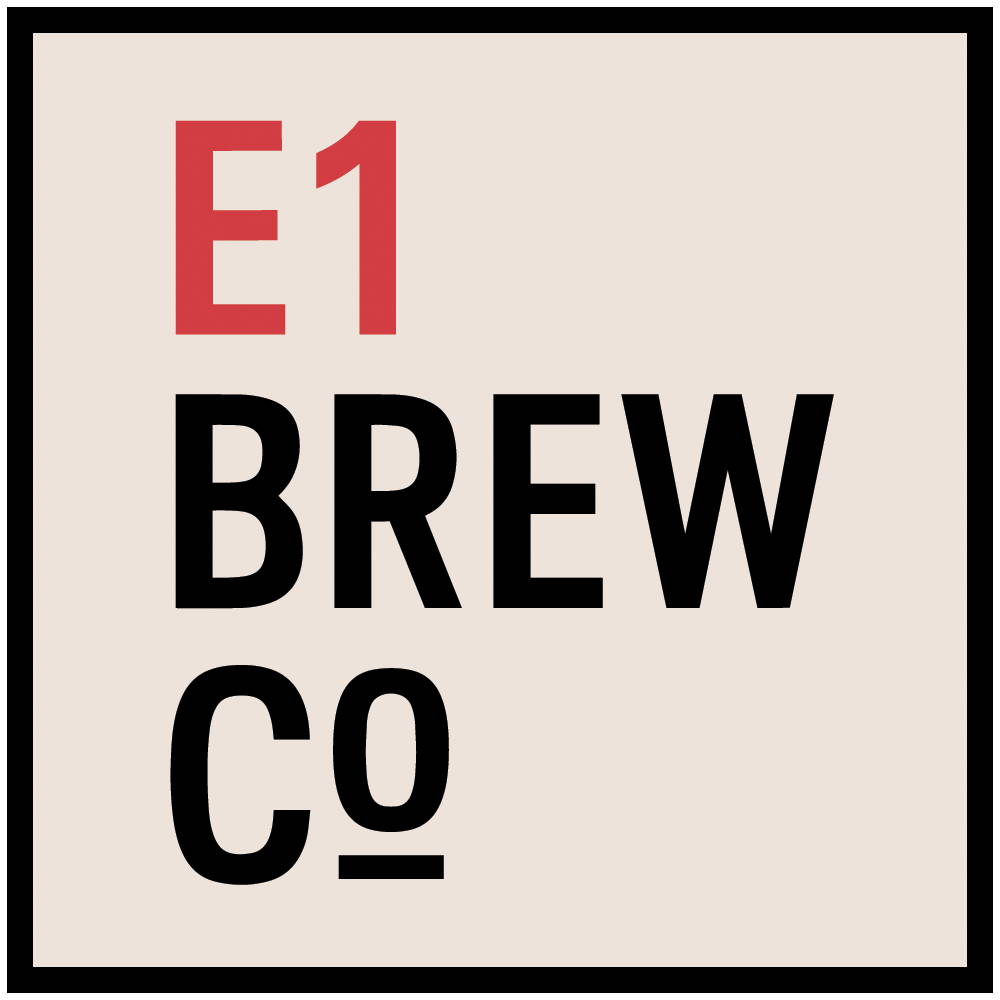 bjorn scribbles x e1 brew co
With the inheritance of culturally significant wealth comes great responsibility. We're using that responsibility in the best way possible, to support up and coming artists.
BJORN Scribbles is the second artists to feature on our newcomers wall which takes pride of place next to one of two Banksy Stencils in The Viaduct Courtyard.
Here he is painting Alice in Wonderland's White Rabbit.
Scroll down to read our interview with BJORN, see photos of the mural and view our Instagram competition.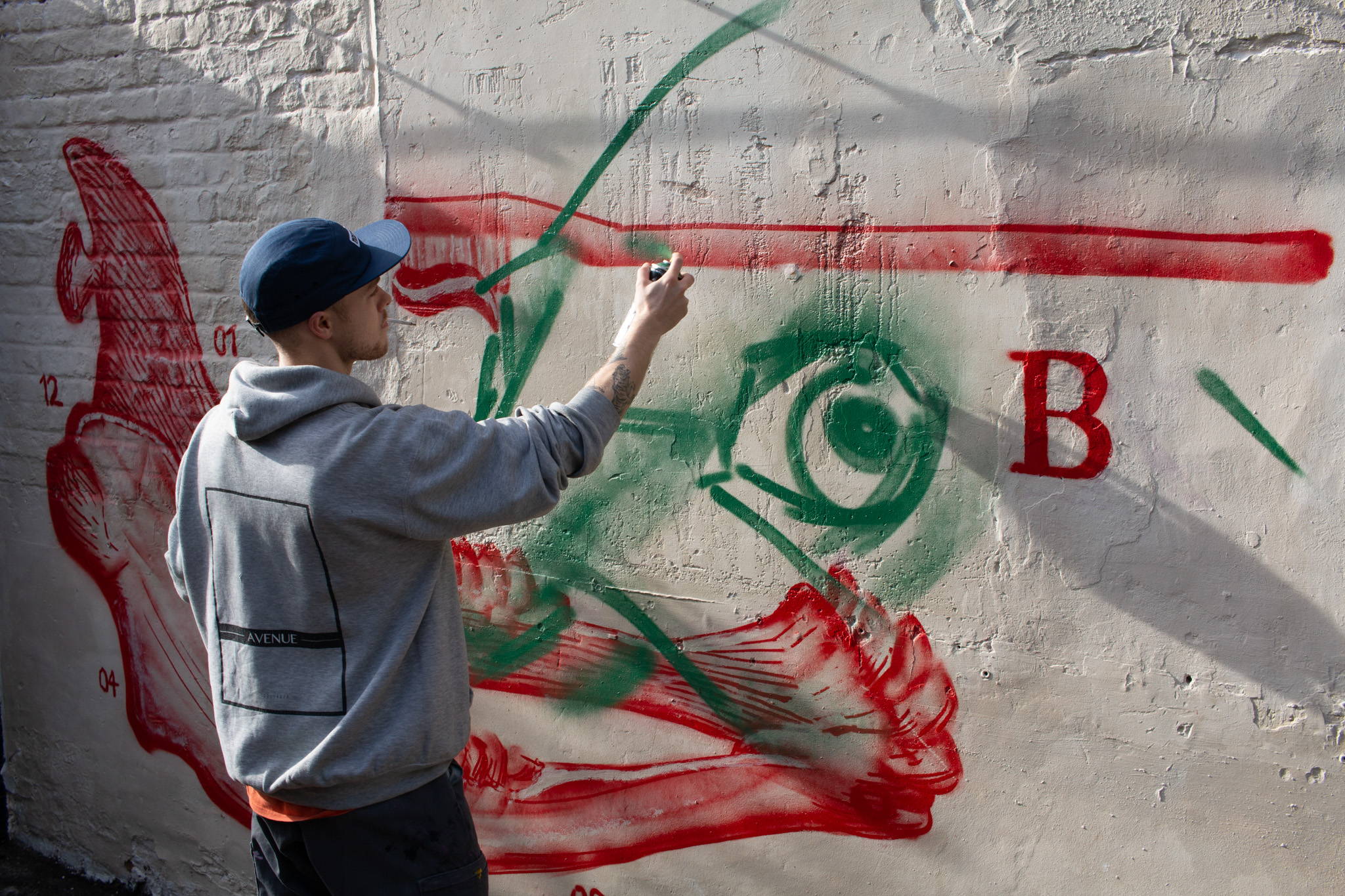 BJORN marking out over ENIGM's Brush Your Teeth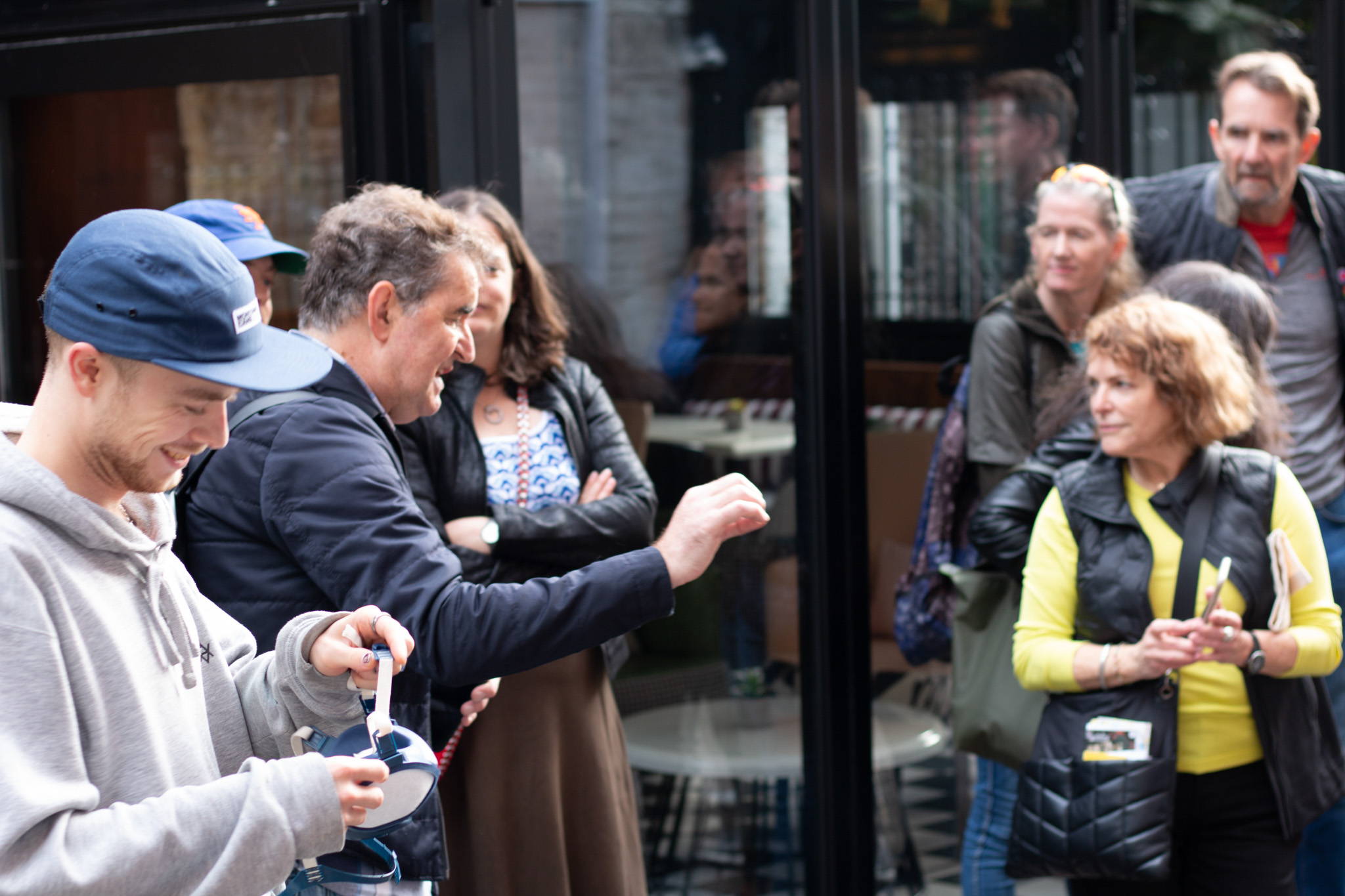 Dave from Shoreditch Street Art Tours shows his guests around the courtyard.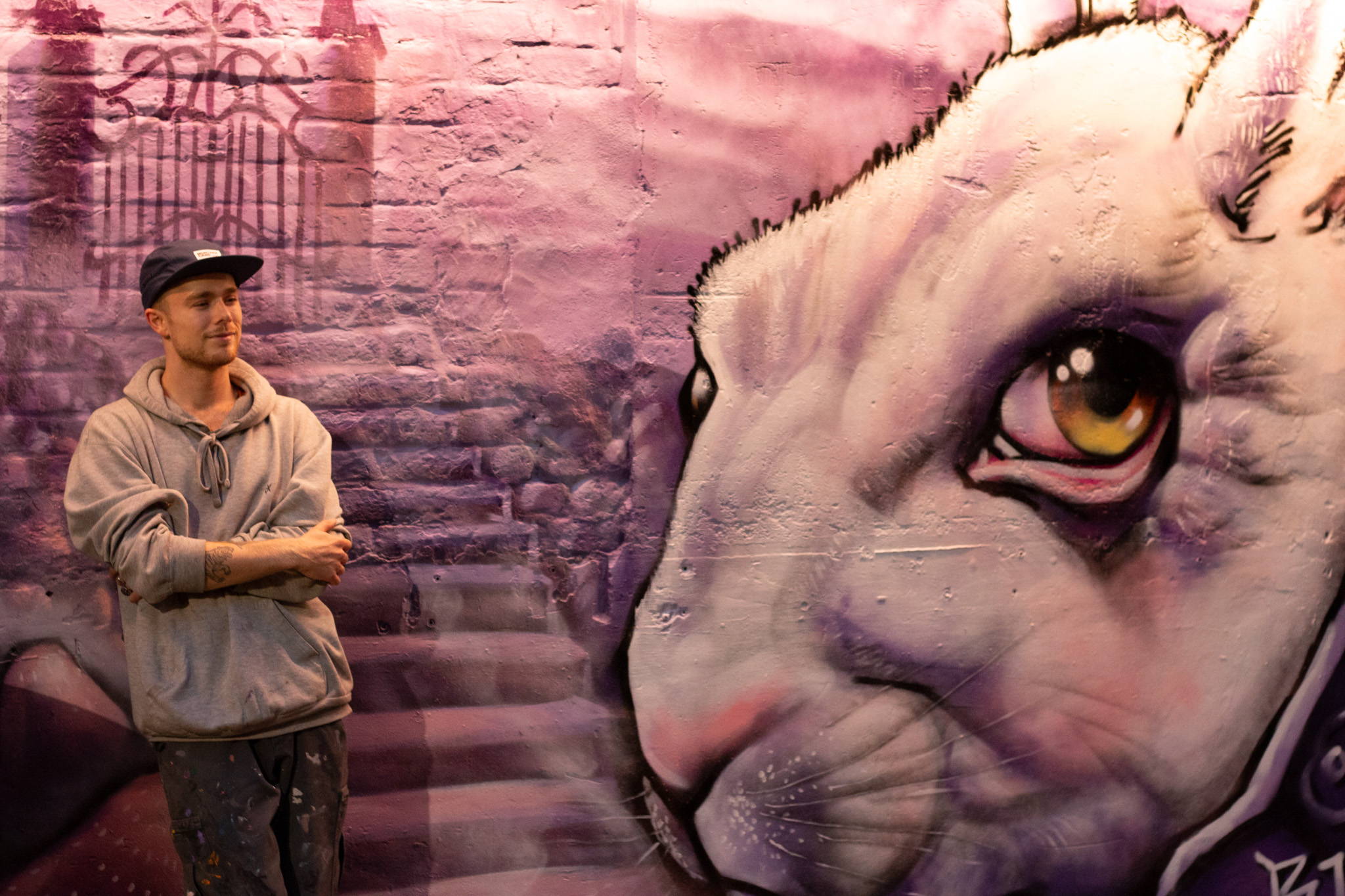 BJORN with his finished piece.
bjorn scribbles interview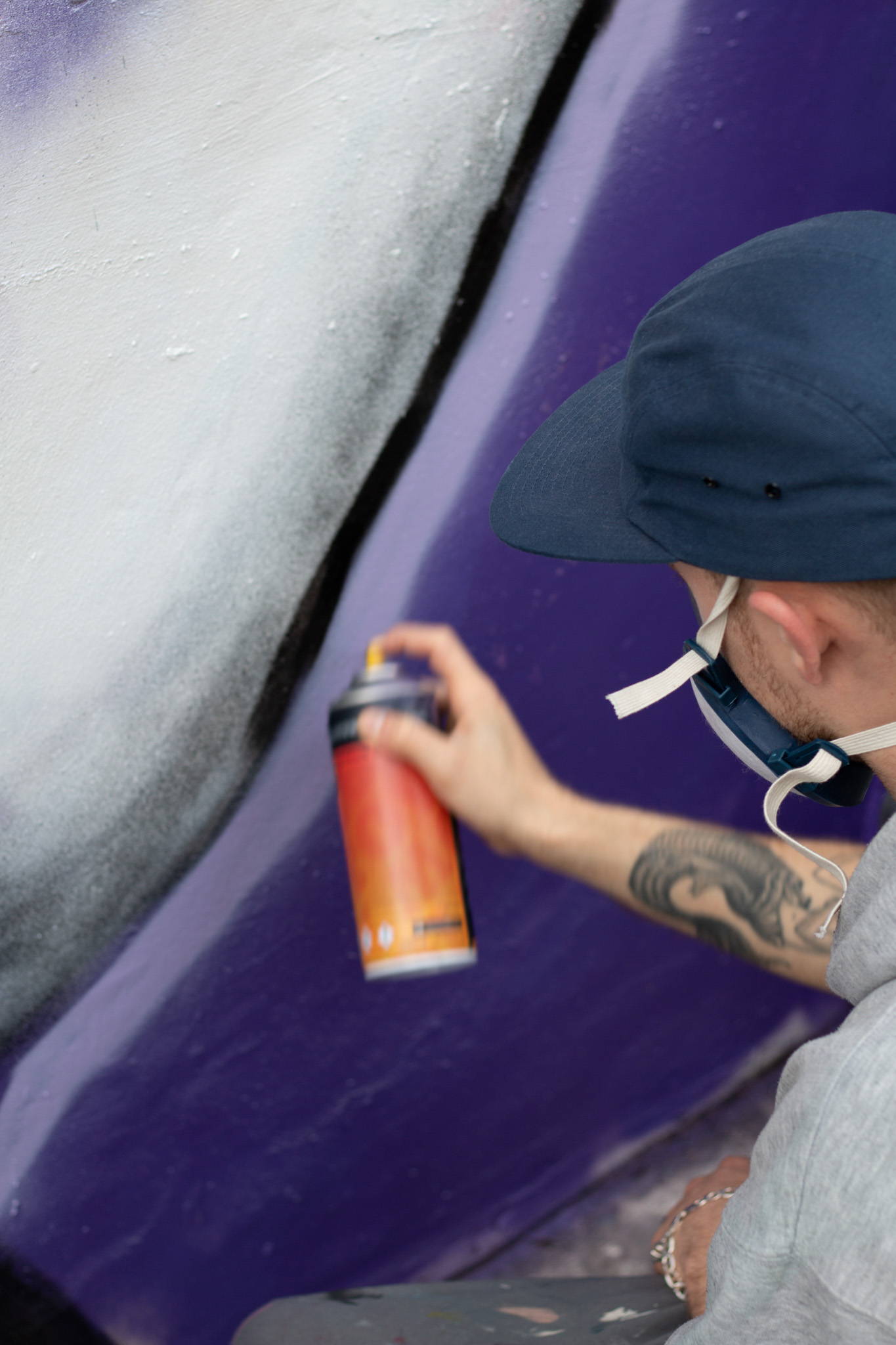 BJORN is a street art new-comer has been widely accepted, by the street art powers that be, as an up and coming young artist.
We took the opportunity to ask BJORN a few questions while he was painting.
Read all about it below
When did you start drawing?

As long as i can remember I've always been drawing.
When did you realise you're good at it?

I still don't think I'm good at it but I guess around 14/15 I realised I had a better understanding of it than most of my peers? I worked at out a lot, so many hours. I'd spend days at a time just drawing and painting. It was like being in a trance.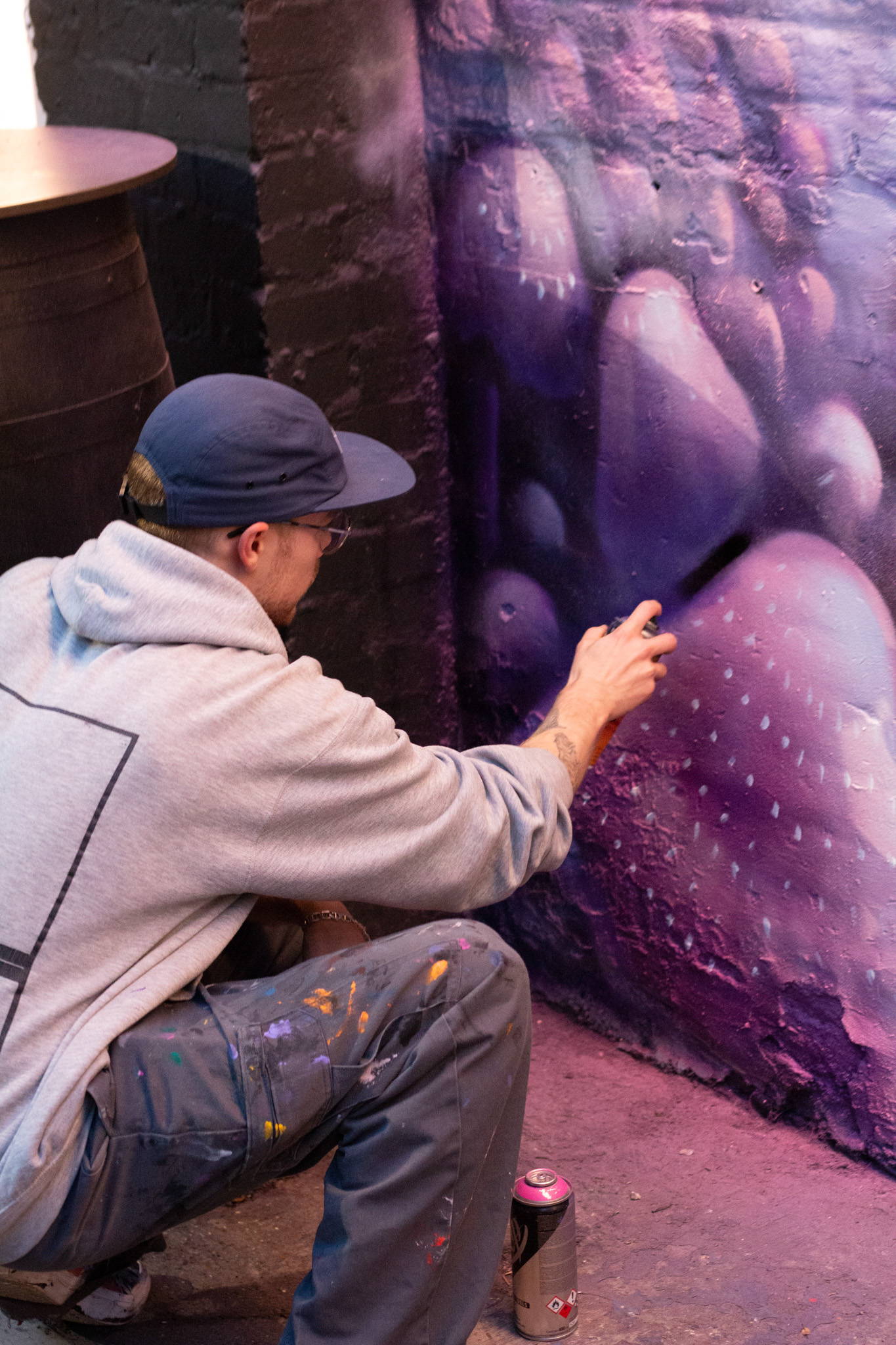 You've only started street art around half a year ago, I think I remember you saying, how do you find the street art community?

Yeah i only got into spray painting in early 2022, after meeting Dill at the GumsnTongue Sketchclub.
The street art community has given me everything I always thought art should be about.
Being out and about with your mates, getting together to paint and having a laugh in the process.
I like working in my studio, but this often gets very lonely.
Street art has given me a platform to be outside & talking to people while creating art at the same time - best of both worlds.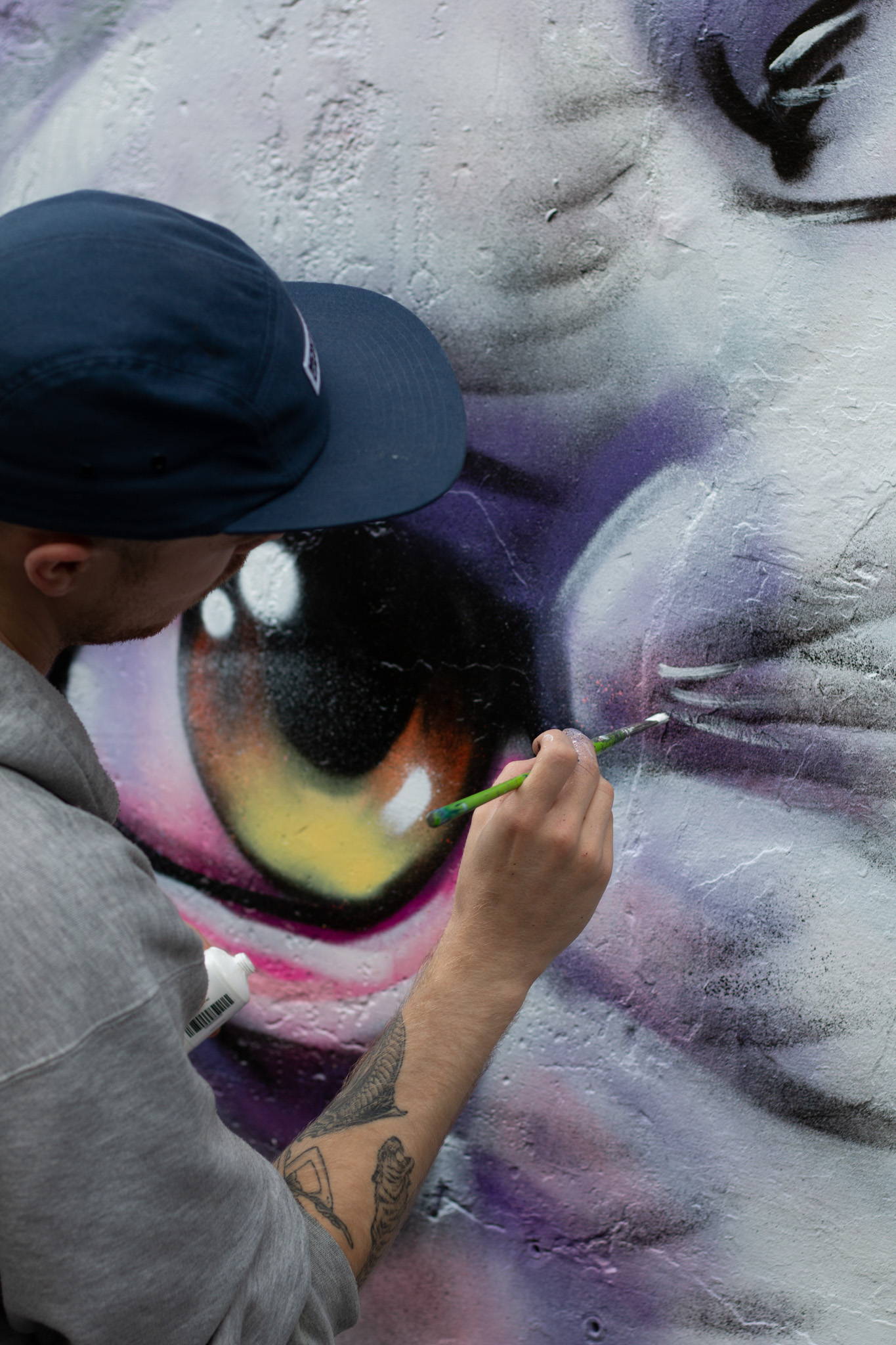 How does it feel to be up next to a Banksy in such an iconic spot?
A little surreal. I didnt grow up in the UK, but banksy is obviously one of those names that comes up no matter where you are in the world. It's a good feeling getting the chance to have a piece next to an artist that shaped your inspirations growing up. And the spot has this incredible history in the street art community. So many artists have painted here and of course it was the home of Black Rat Gallery.
Weird to think that Banksy had his first 'proper' exhibition in the arch in the Viaduct venue plus he used to stencil the walls under the bridge and sell the prints out of the back of his car. So yeah, it's inspirational to be starting out myself and have this opportunity to paint a spot with so much history in the street art universe.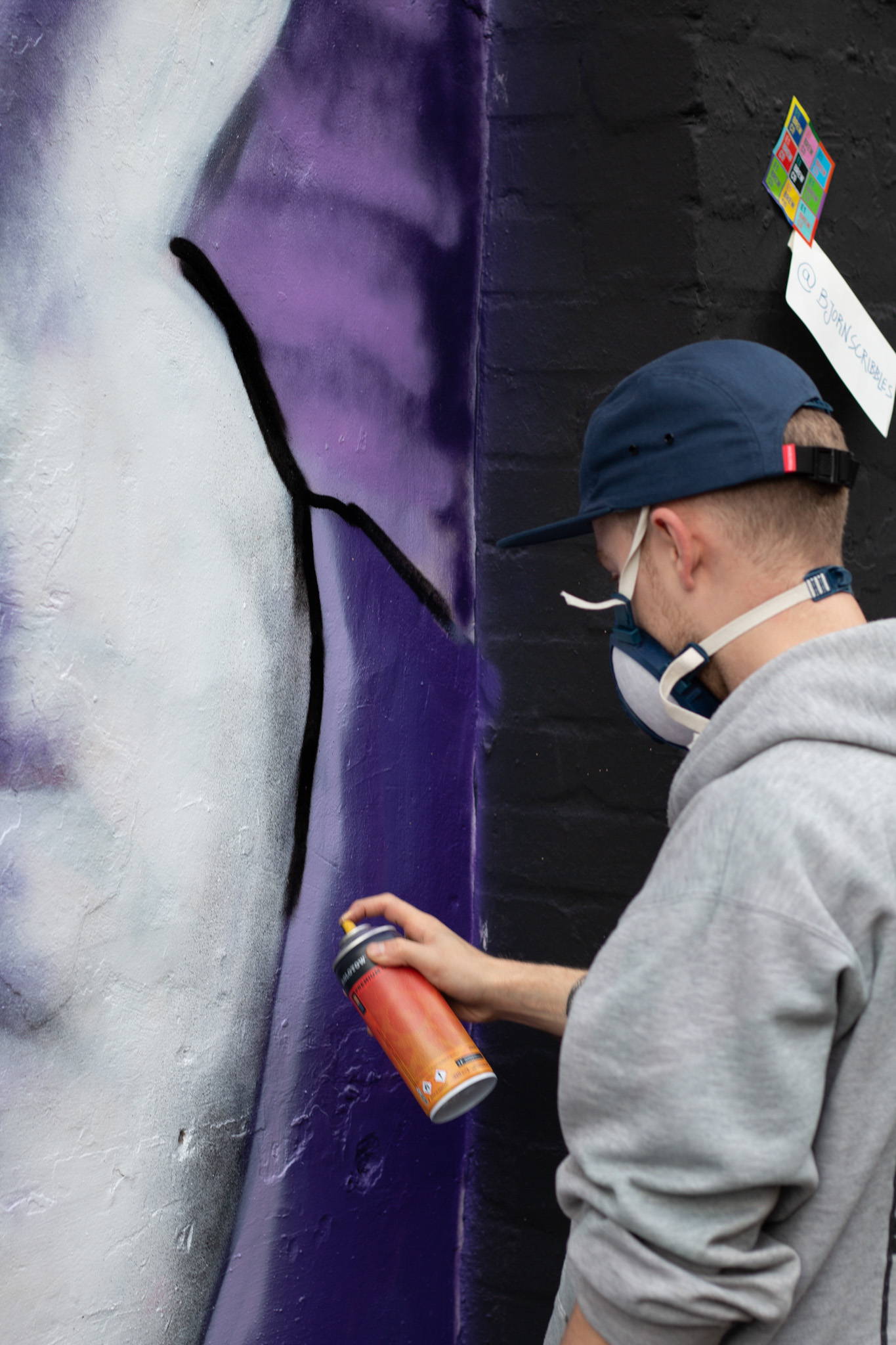 You also know another street art legend, Vinnie Nylon, that we've also had the privilege of painting a wall here at E1 Brew Co.
We heard you spent a train journey to Penge with Vinnie.
What words of advice did he have for you?
Yeah that was a dope train journey, although it was a train coming back from Penge. He told me about growing up painting in the UK, all the way back in 1985 when he started out.
Honoured to have hang out with Vinnie on that trip, the guy is a proper legend in the game!
I don't know about advice as such, but he did do a little sketch in my blackbook that im very hyped about (cheers Vinnie).
Is there anyone you want to give a shout out to?
Big shouts to Dill, and all the guys at Global Street Art. Shouts to Gums And Tonge crew. Also shouts to Antony from E1 Brew Co for putting this all together and hooking up the spot.
Shouts to the reader for making it this far.
Thank you to BJORN from all at E1 Brew Co.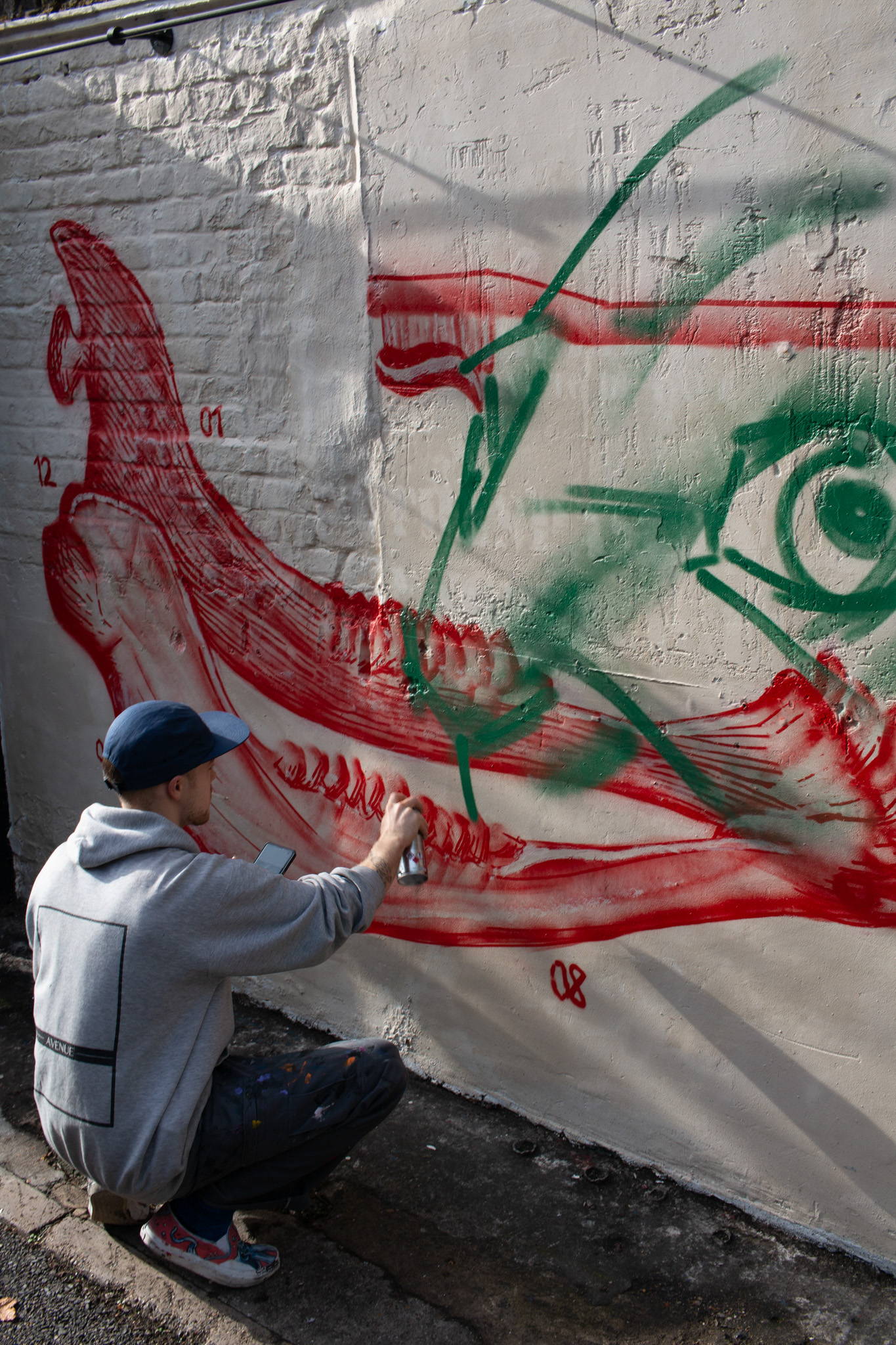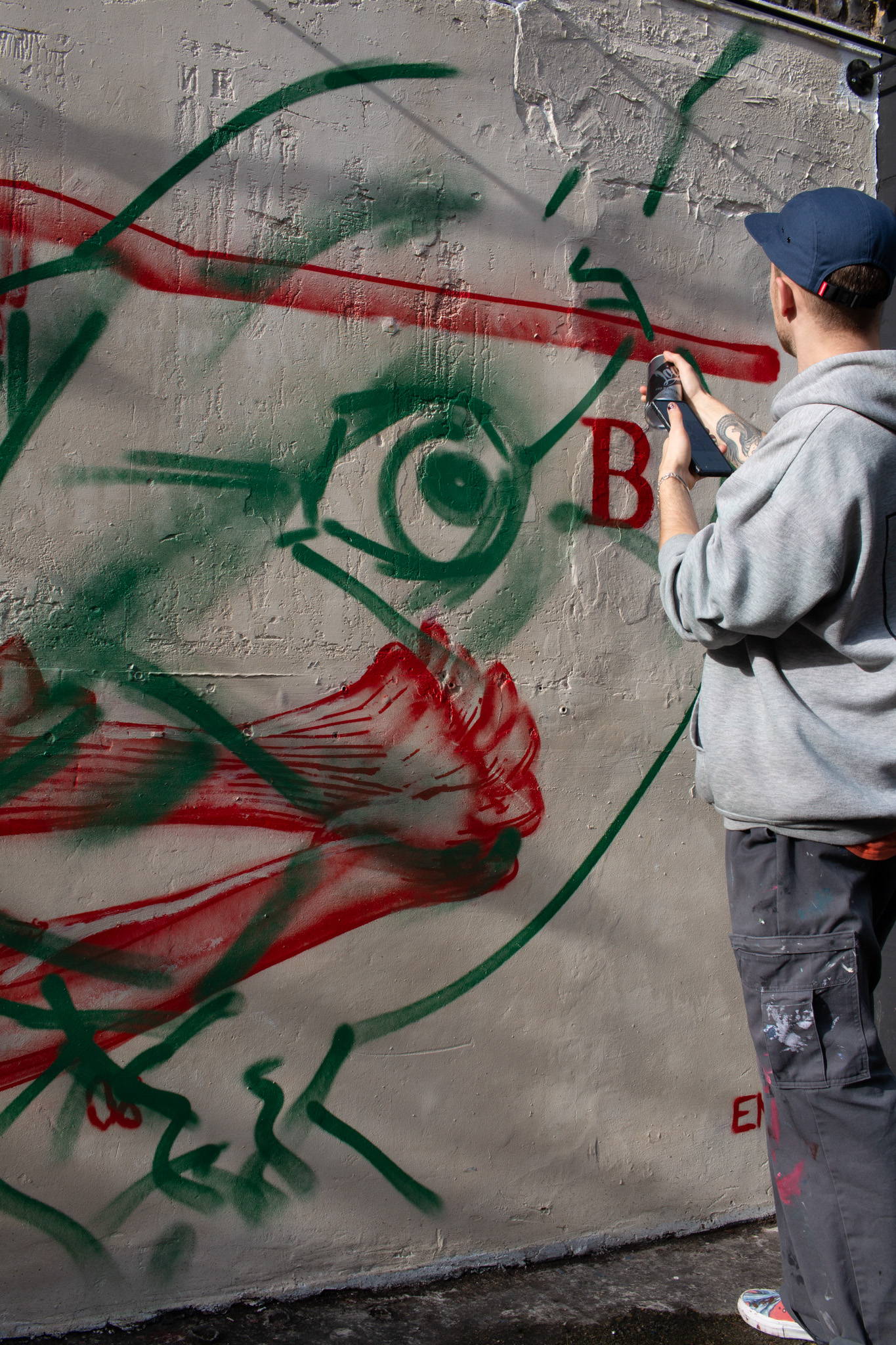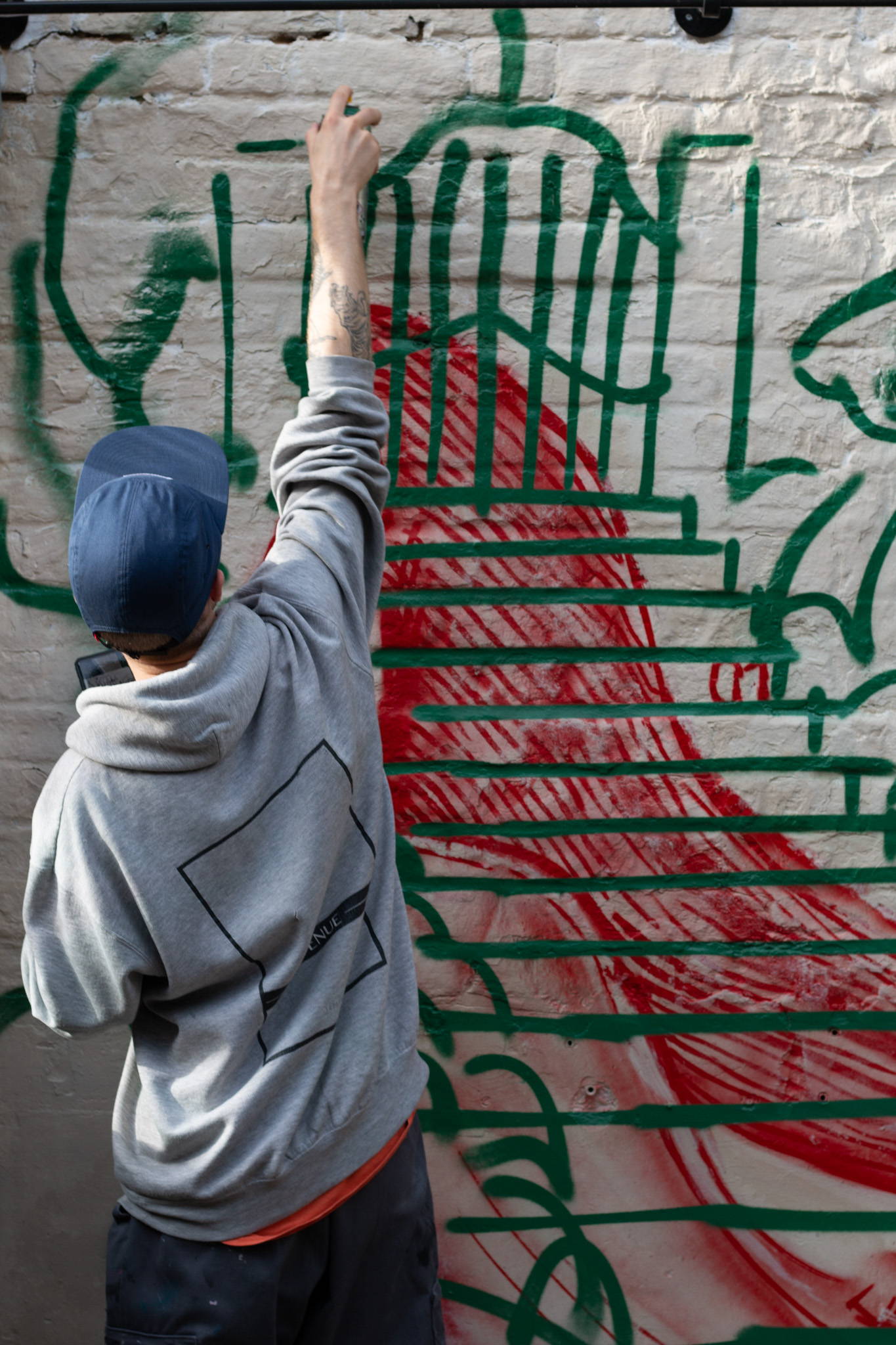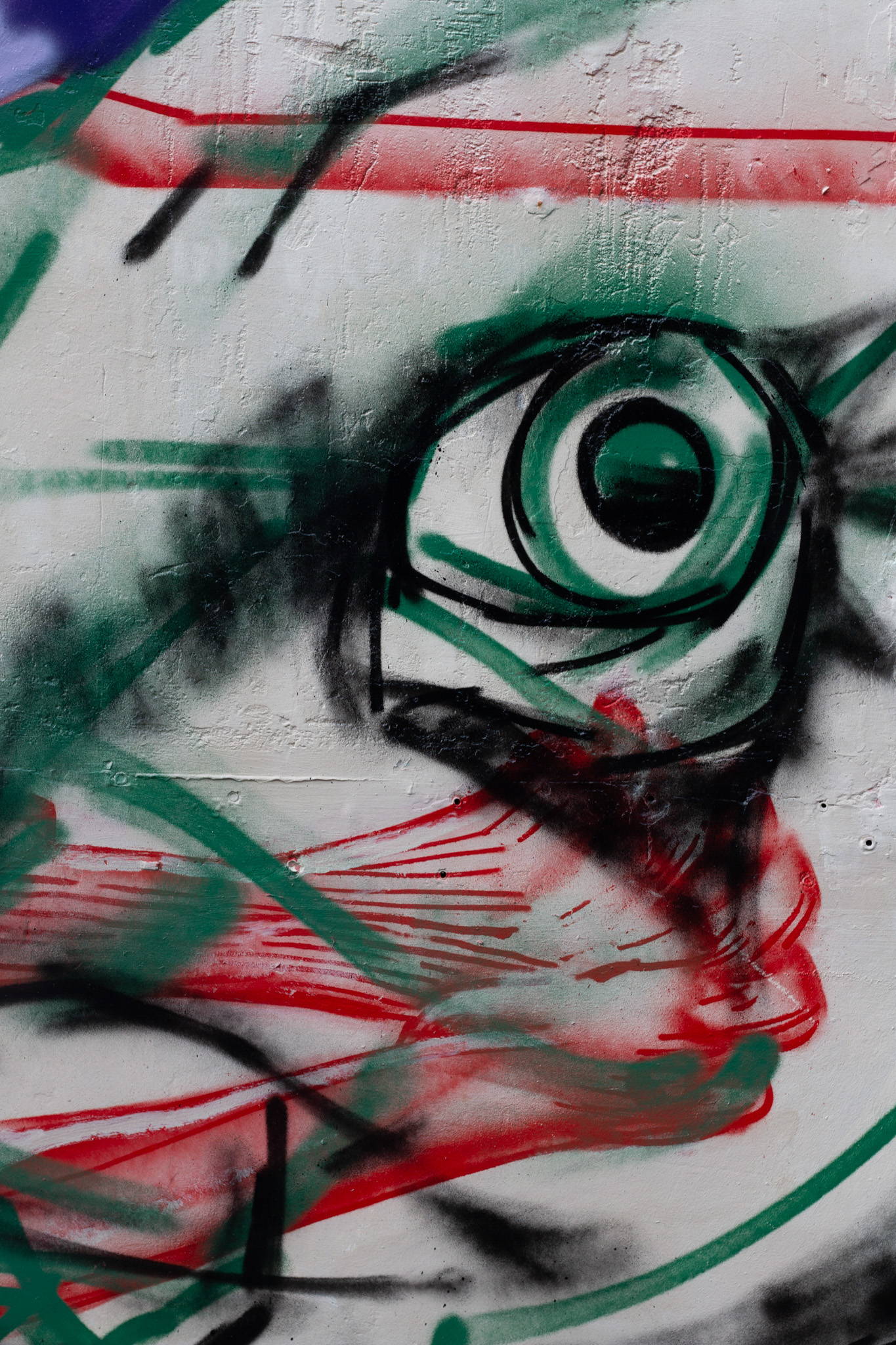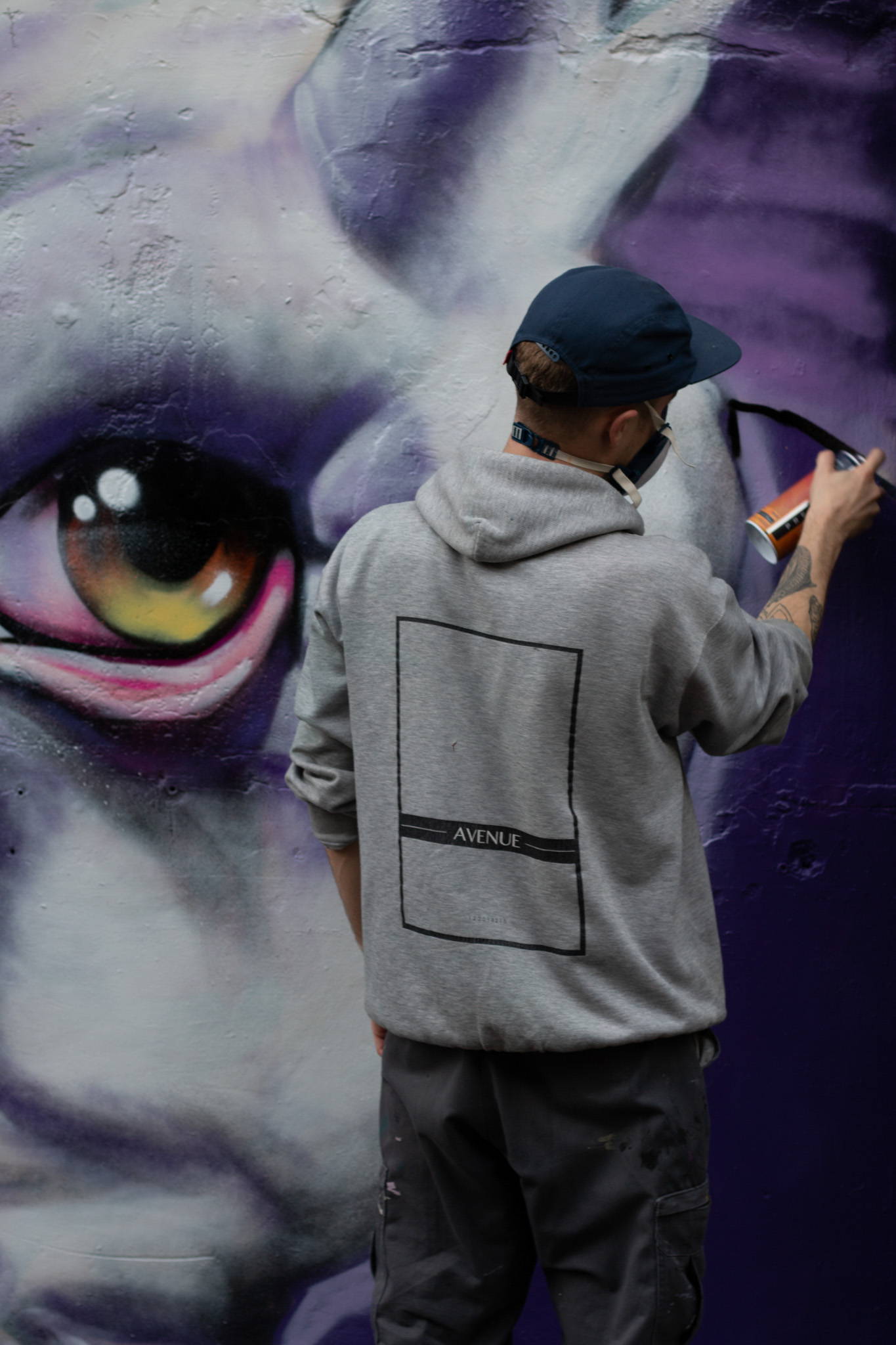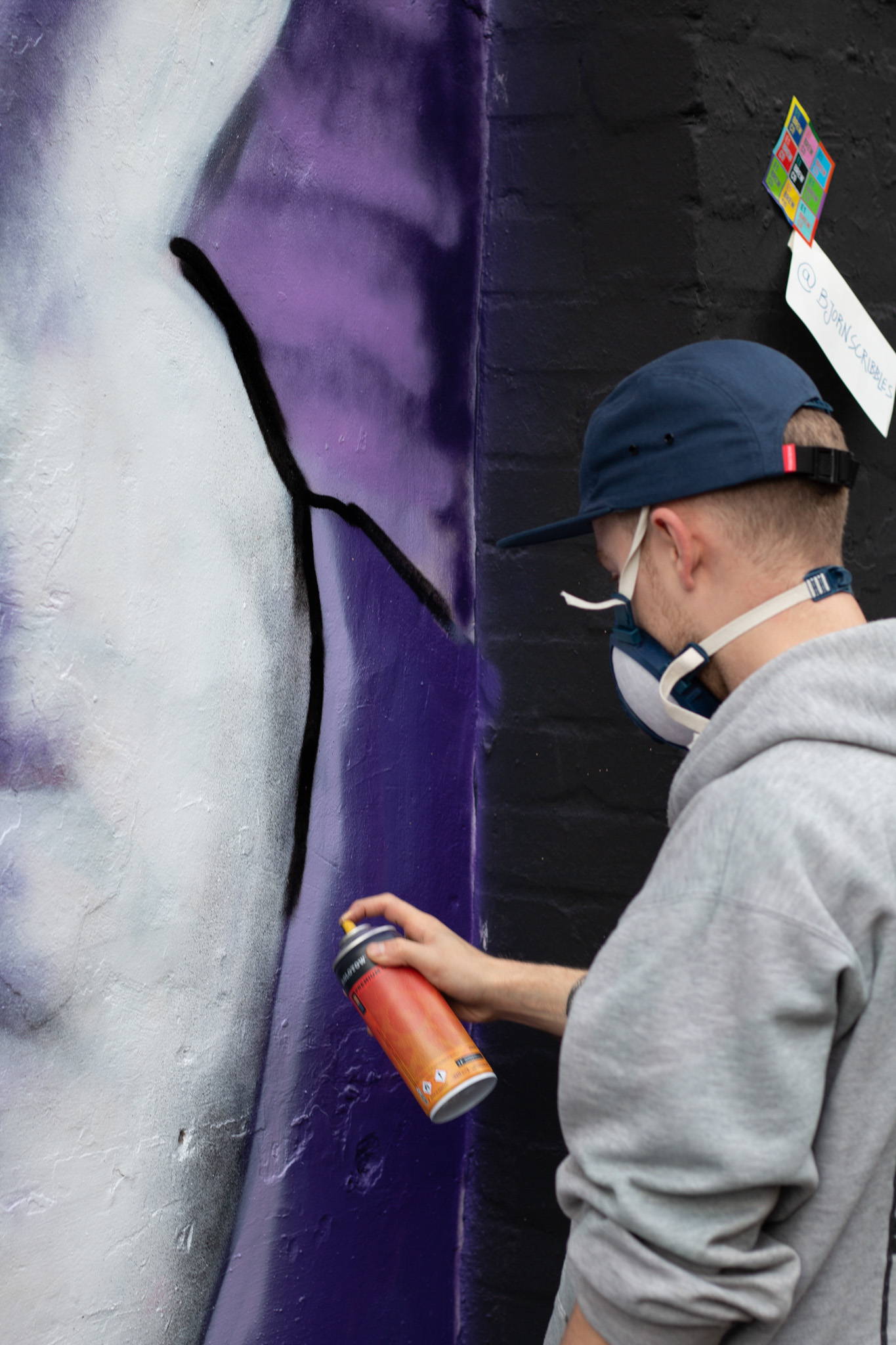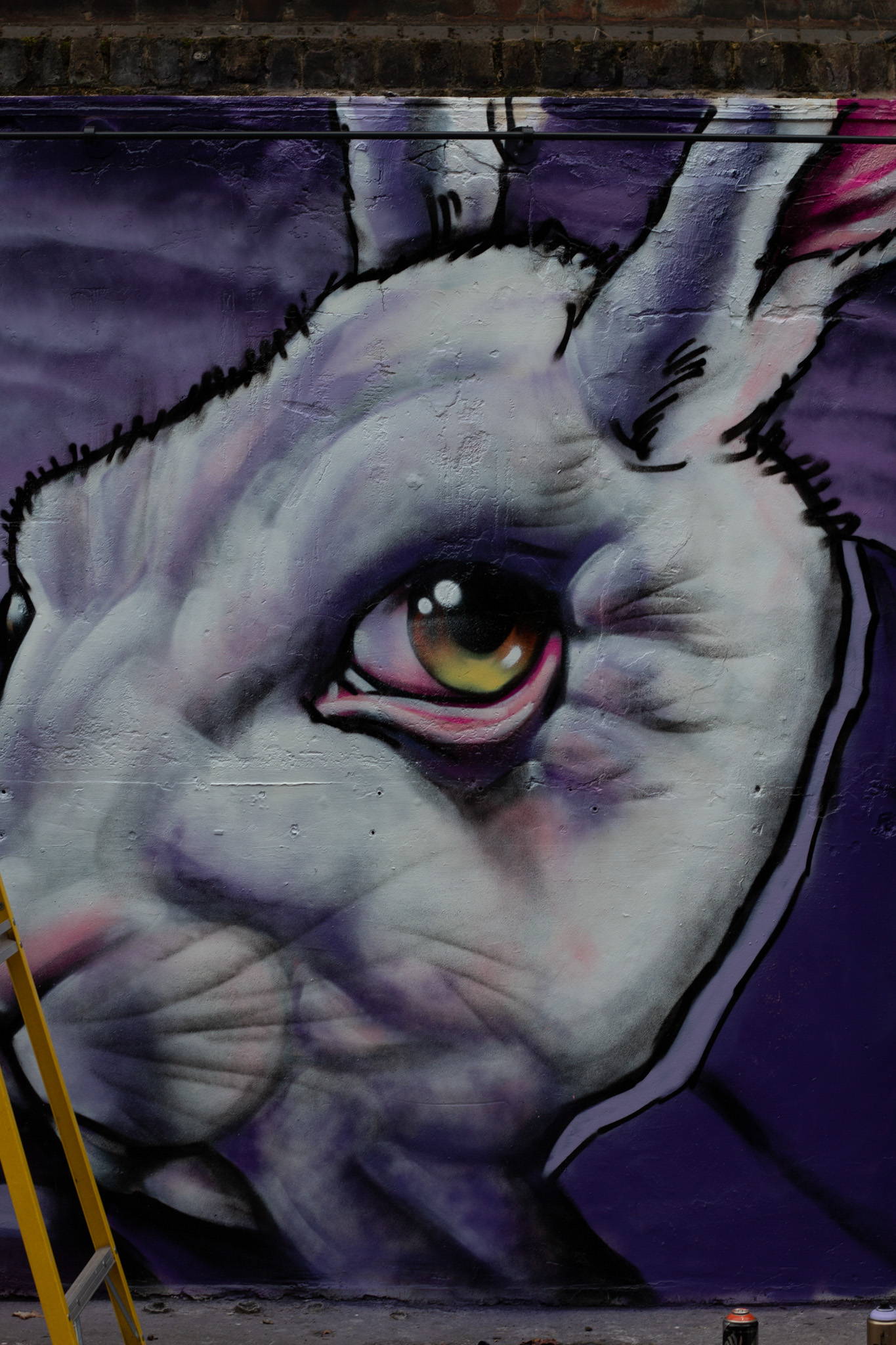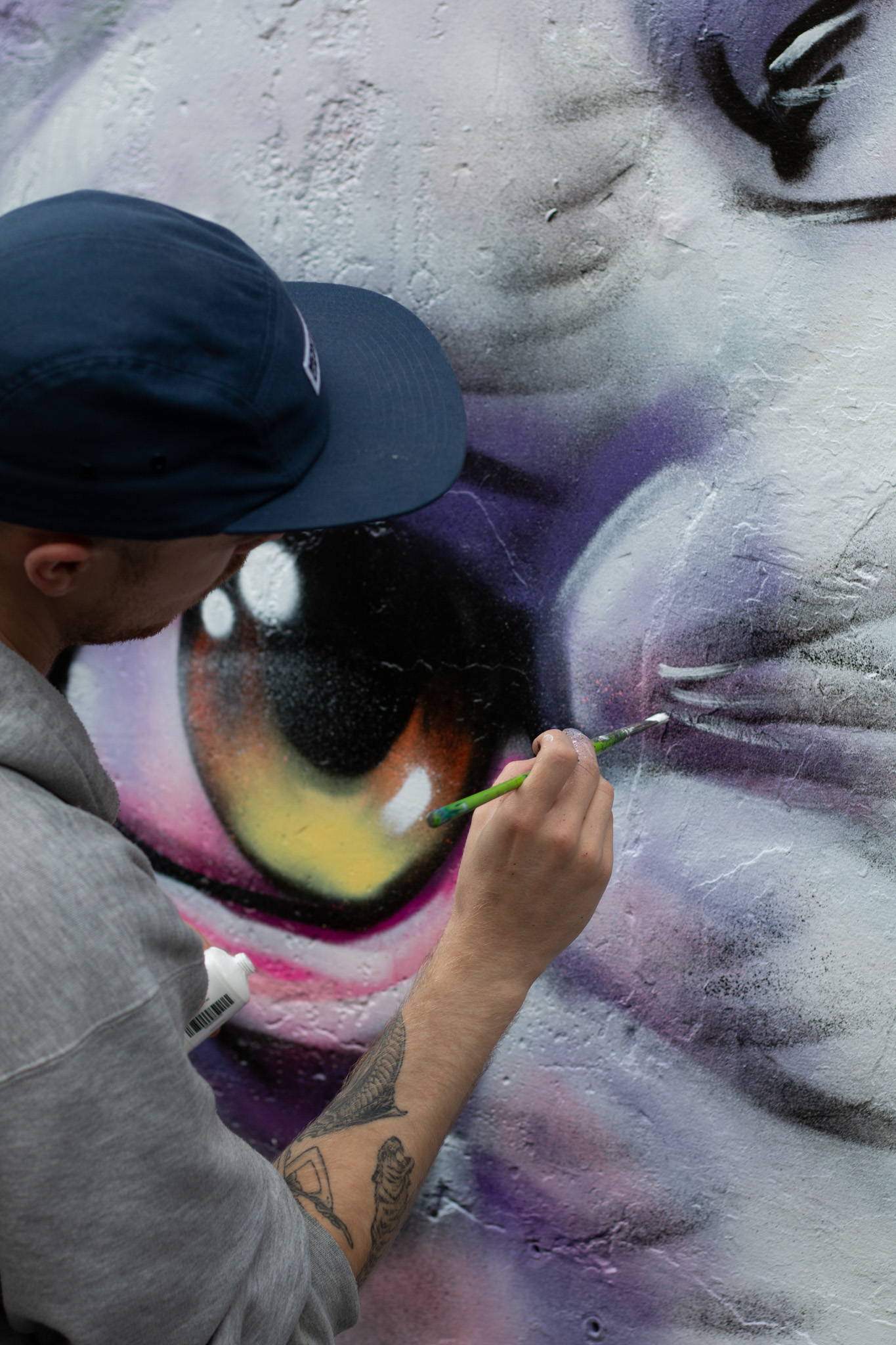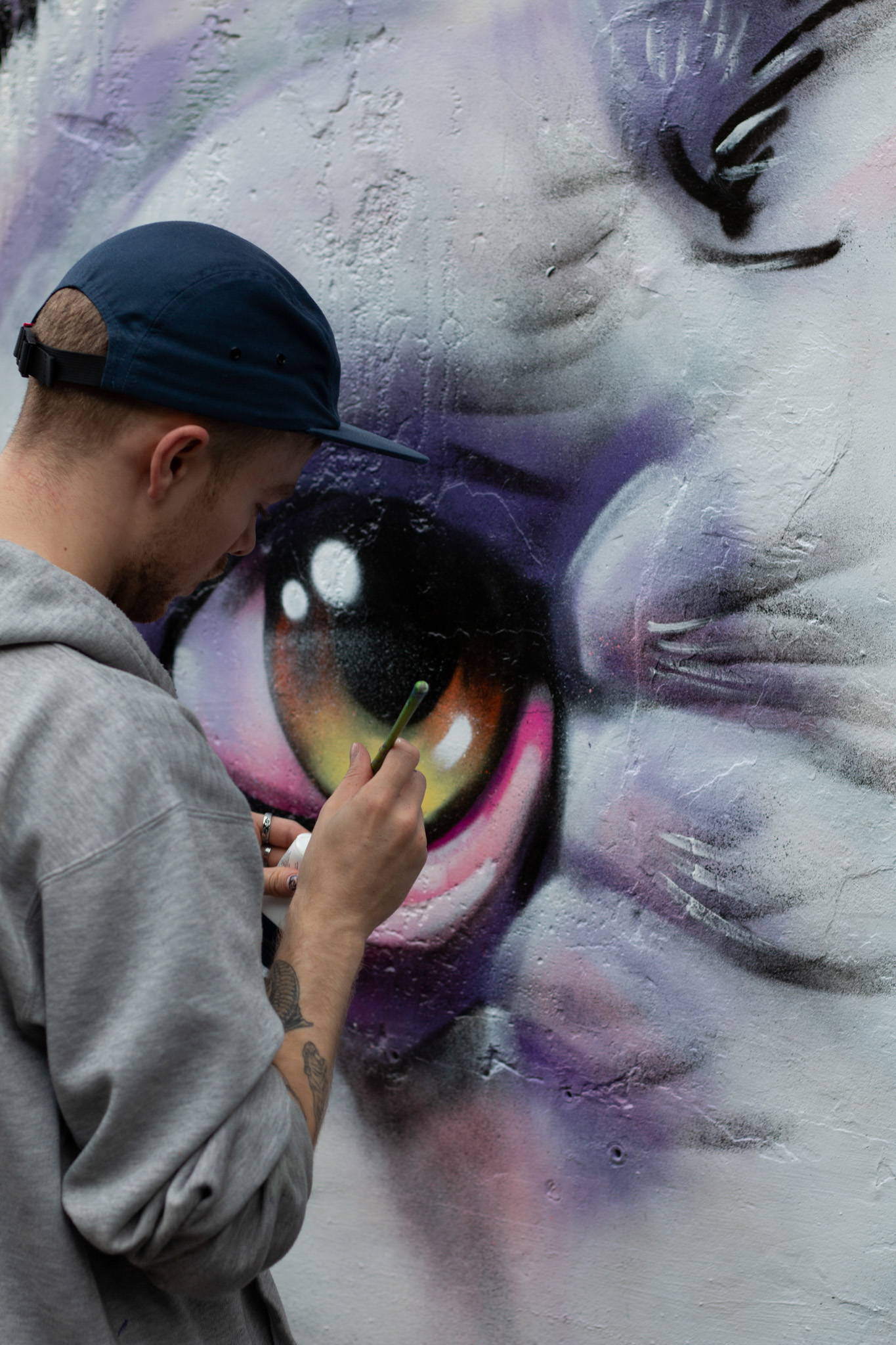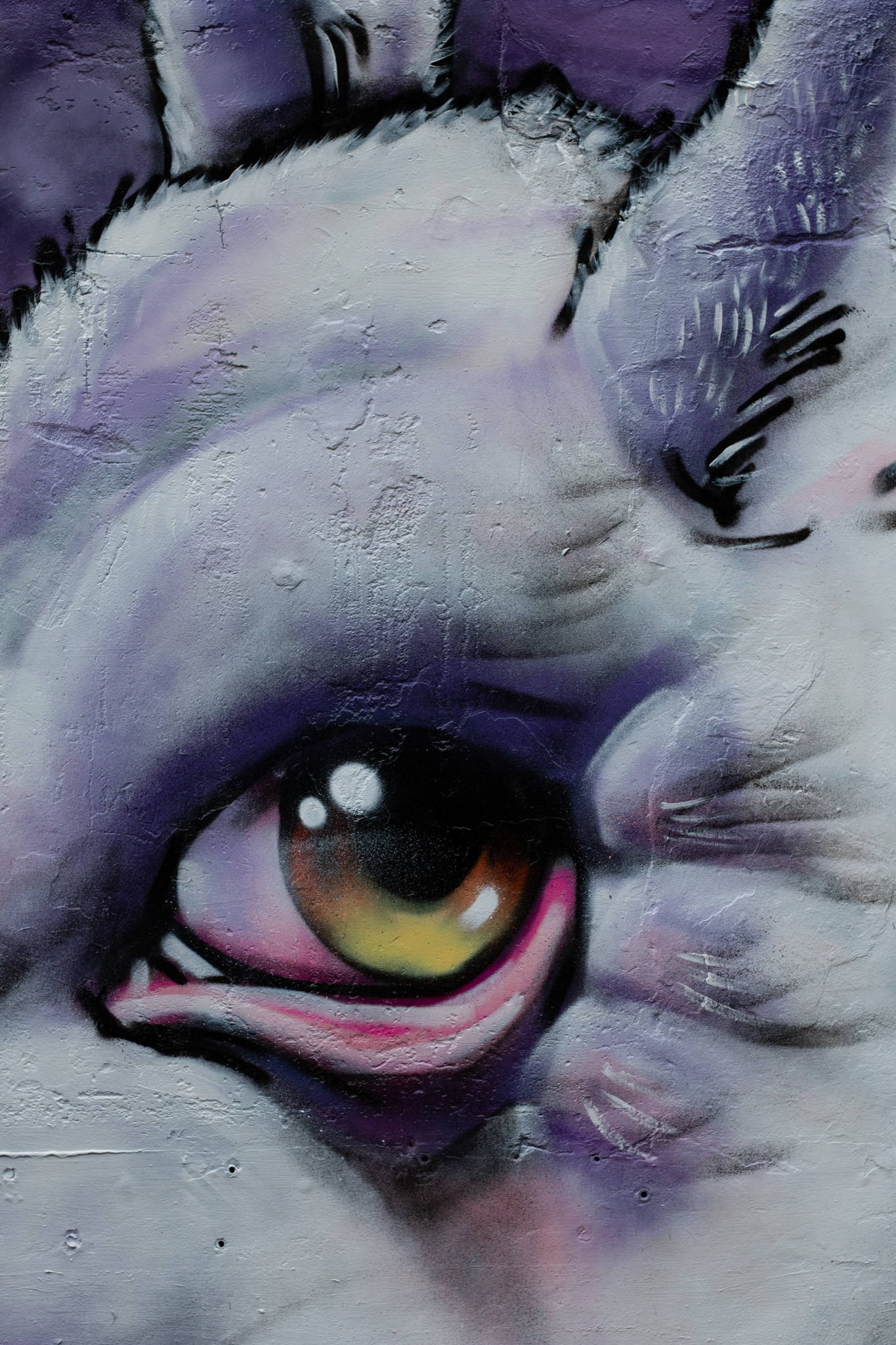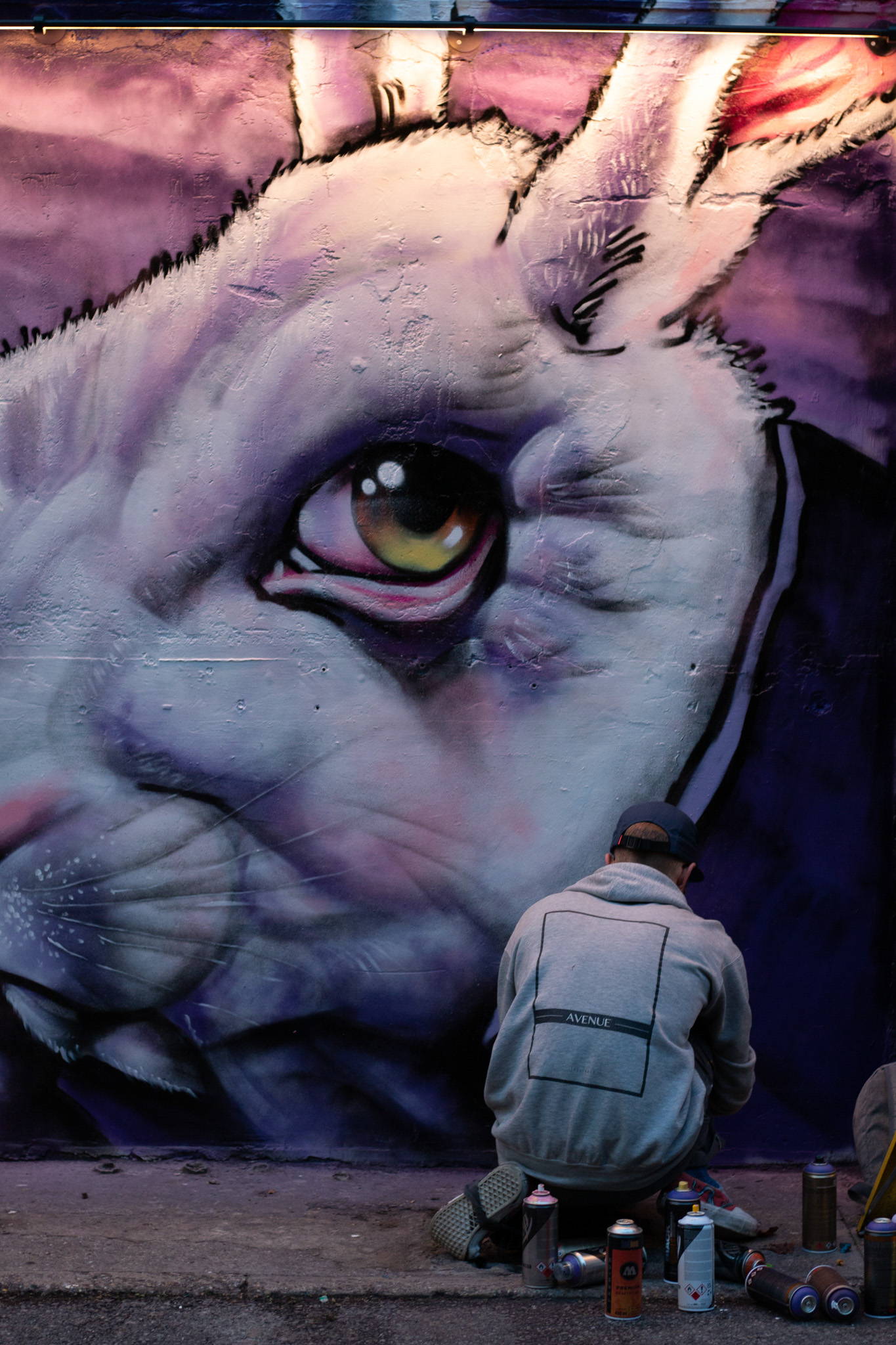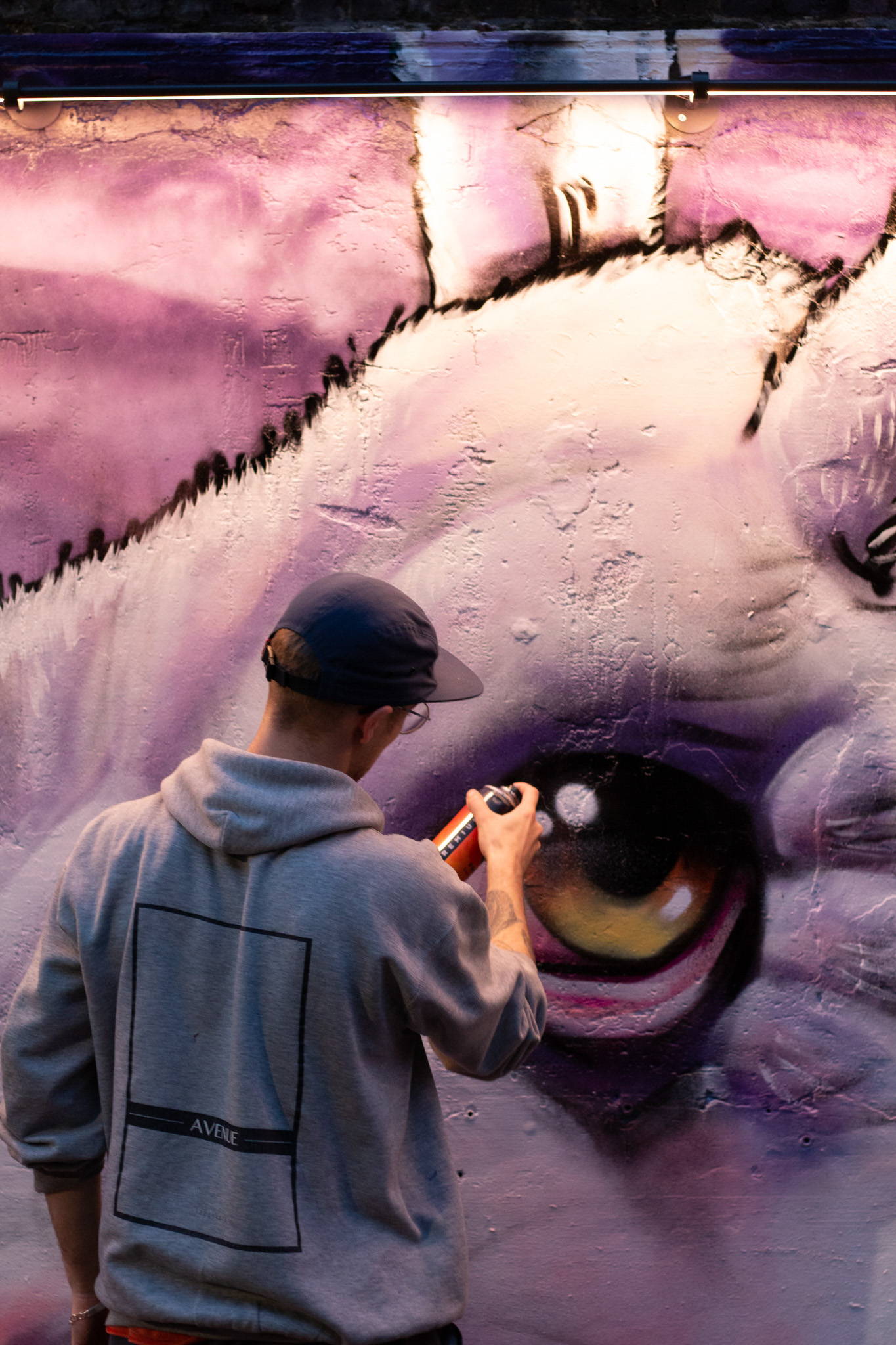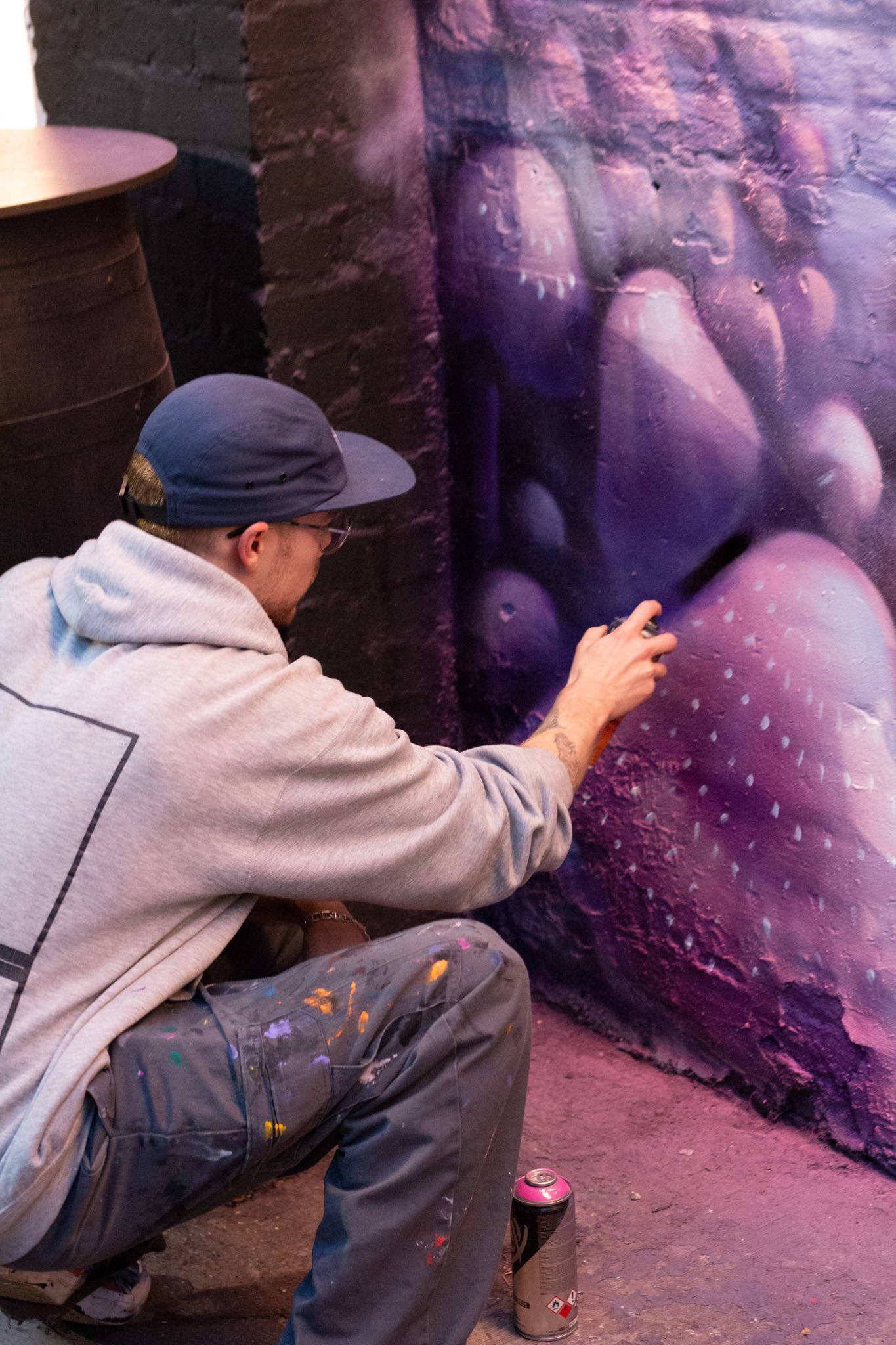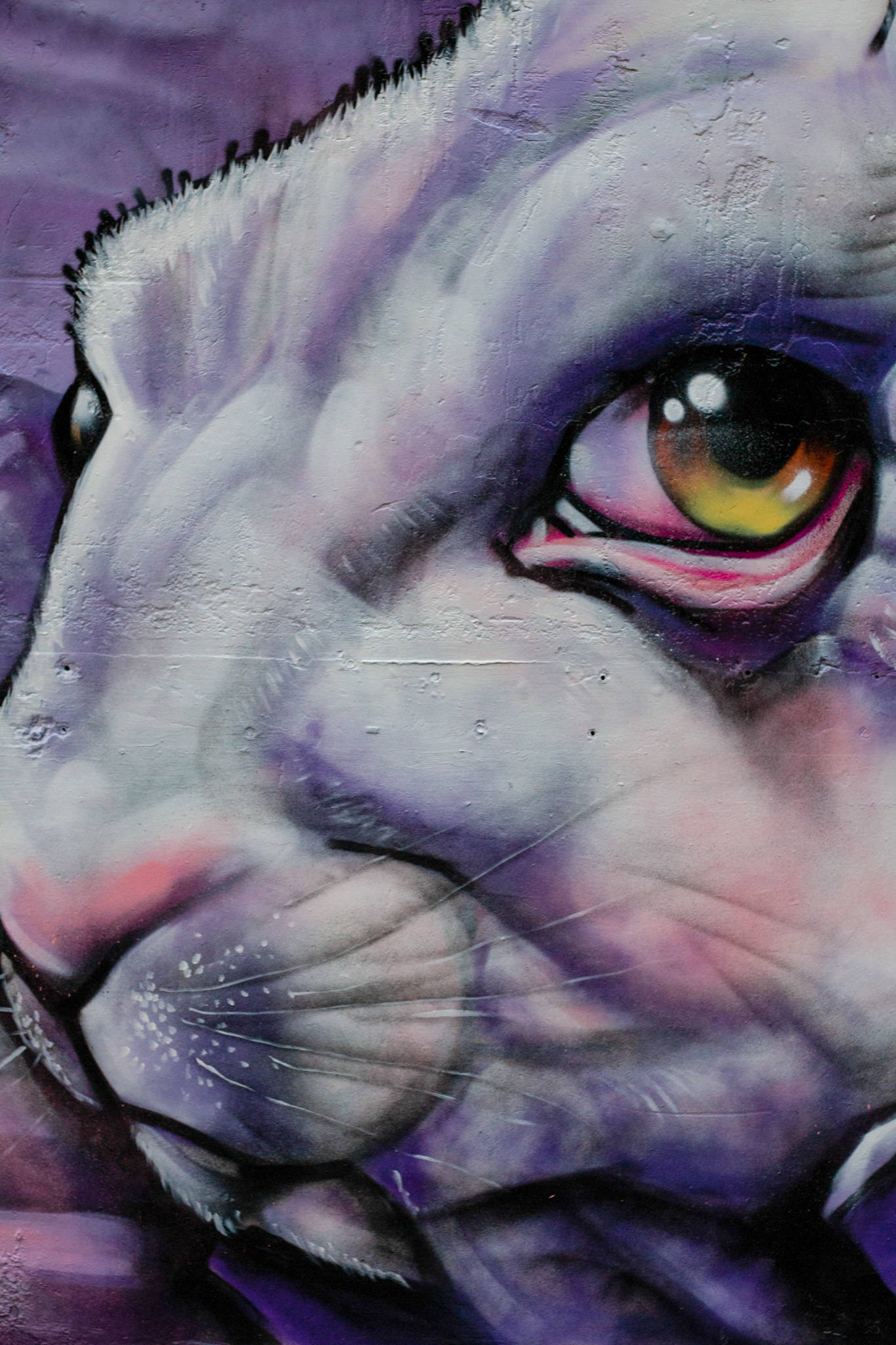 BJORN with the finished piece.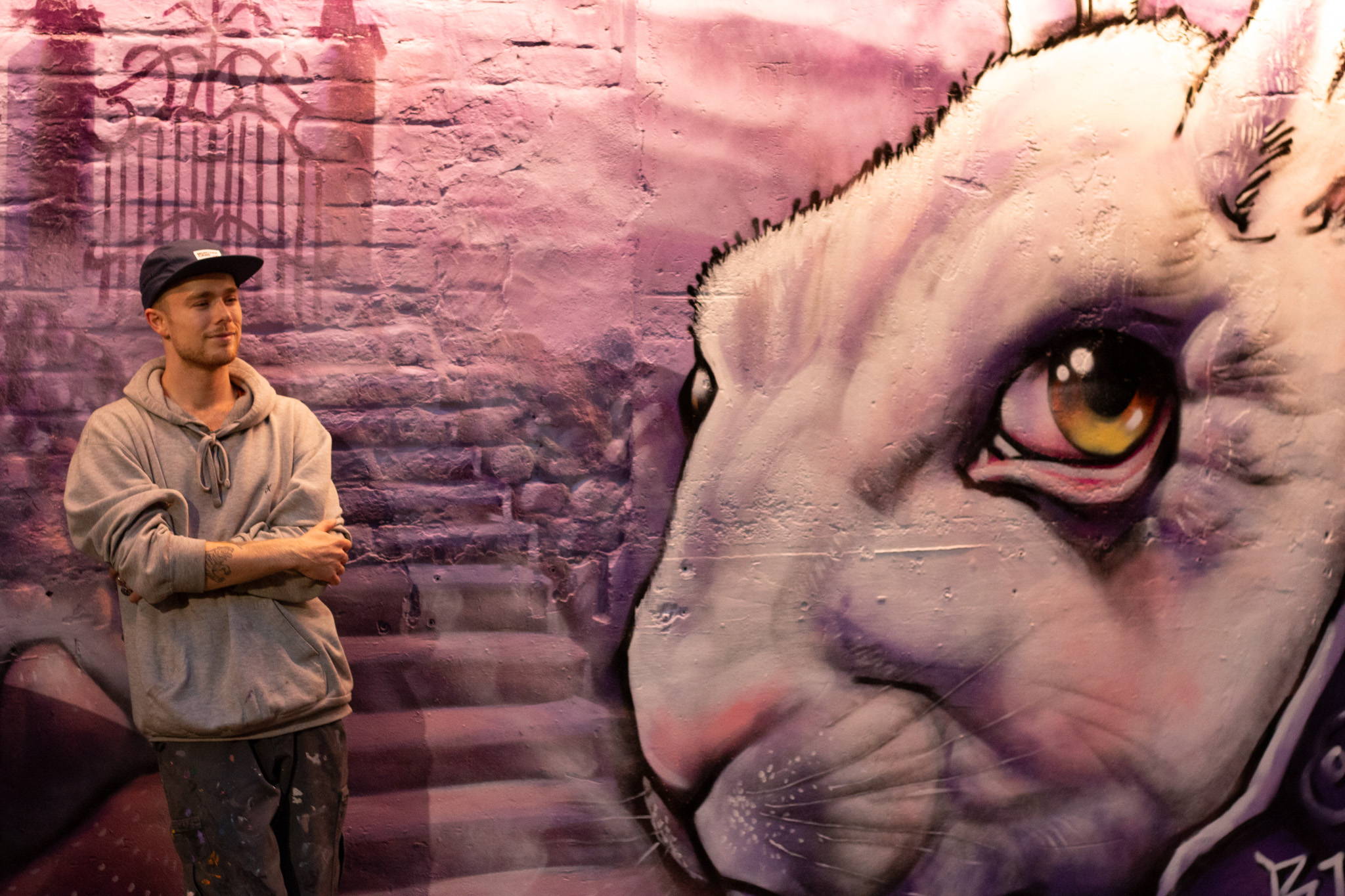 Bjorn Scribbles ART CAns!
We're collaborating with BJORN to bring you some limited edition, signed art cans. They'll be available soon. Sign up to our newsletter to get updates!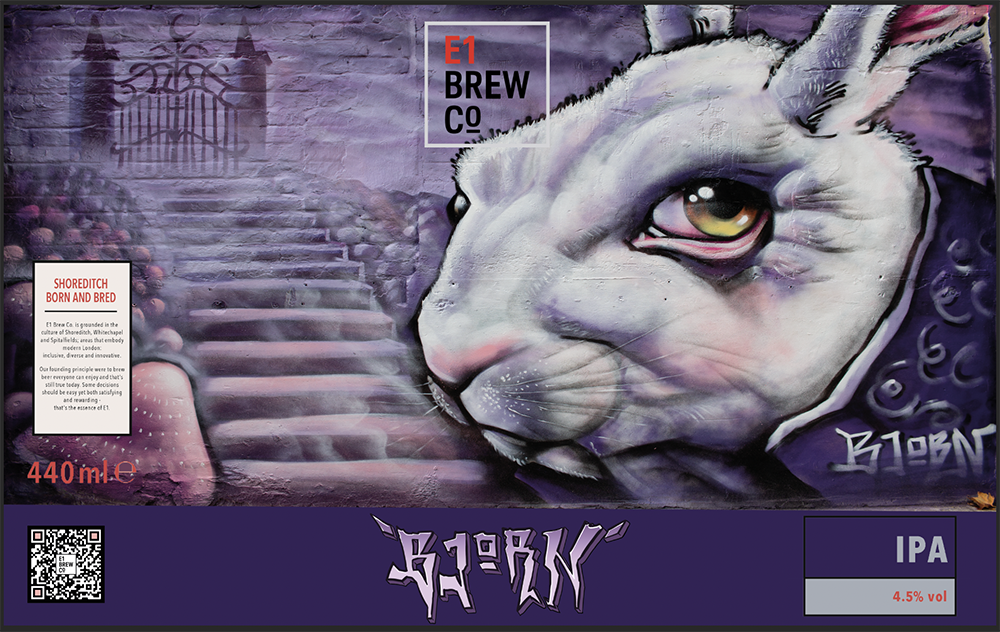 BJORN x E1brewco Competition rules
BJORNxE1BREWCO INSTAGRAM COMPETITION RULES.
Four lucky winners will receive an E1 Brew Co Goody Box including a signed INSTAX photograph of @bjornscribbles painting his White Rabbit Mural in the @viaductShoreditch courtyard.
-
Each winner will receive a BJORNxE1BREWCO goody box containing;
1. One signed @Instax Wide photograph of @bjornscribbles painting his White Rabbit mural in @theviaductShoreditch courtyard,
2. Cans of E1 Brew Co IPA + Pilsner (one can of each),
3. Five Instax Wide #expiredfilm (04-2020) film cartridges containing 10 exposure each,
4. One E1 Brew Co Pint Glass,
5. One E1 Brew Co T-shirt,
6. One E1 Brew Co Tote Bag,
7. Two E1 Brew Co Stickers.
-
COMPETITION RULES
There are four BJORNxE1BREWCO Goody Boxes available, each with a different signed #fujifilm #instax signed photo of BJORN.
-
Follow, Like, repost on your feed using #BjornXE1brewco hashtag, comment and tag a friend (entrants can tag multiple accounts but please do these in separate comments. Each separate tagged comment increases your chances of winning).
-
The competition will end at noon on the 15th December 2022 and a winner will be announced shortly after.
-
Once the competition has ended, winners will be selected.
-
We can only verify if a winner has followed the rules if their profile is public. If a winning account is private, and it is not possible to verify that the contest rules have been followed, then a contest winning draw will be run again to select a new winner.
-
Goody Boxes will be sent out shortly after winners are announced and verified. Goody Boxes will be sent out before Christmas but delivery cannot be guaranteed to be before Christmas.
-
There will be no delivery charge, however delivery will not be made to addresses outside of the United Kingdom.
If a contest winner wishes for the E1 Brew Co goody box to be sent outside of the U.K then E1 Brew Co are happy for this to be arranged and paid for by the winner.
-
Please note that the INSTAX film has an expiration date of 2020-04.
#expiredfilm
-
Winners will not be able to select which photograph they receive in their BJORNxE1BREWCO goody box.
-
We will endeavour to have your BJORNxE1BREWCO Goody Boxes to you before Xmas but this cannot be guaranteed due to the increased volume of parcels being sent at this time of year.
-
Winners will be contacted via direct message and asked to contact E1 Brew Co via email to pass on delivery details.
-
Head over to our instagram to enter the competition!
-
GOOD LUCK!
-
@e1brewco